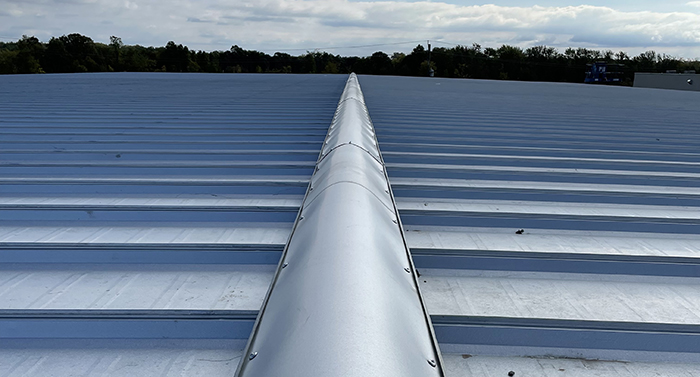 Stolk Construction is a proud Butler Builder®
As the Niagara-authorized partner of Butler Manufacturing™ we can provide a variety of metal roofing and re-roofing solutions for your facility. We know how stressful it can be when your facility needs a new roof, but in most cases, the Butler®metal-over-metal roofing systems can be installed directly over your existing roof, eliminating tear-off costs, and minimizing interruption to daily business activity.
What Roof Systems Does Stolk Construction Provide?
As a Butler Builder® Stolk can offer you a variety of options:
The Butlerib® II Roof System – the industry's best through-fastened roof system, engineered to save you money in installation and maintenance.
The MR-24® Roof System – the industry's first and finest standing-seam metal roof system. Suitable for most roof retrofits and re-roofing projects, it's specifically engineered to offer precision performance that is durable, flexible, and virtually maintenance-free.
The CMR-24® Roof System – offers all the same benefits of our industry-leading MR-24® roof system with added energy efficiency and a more finished look thanks to a rigid insulation board and interior steel liner.
The MR-24® Conventional Roof System – features factory-punched structural members and roof panels to ensure a precisely aligned roof system.
Reroof and Retrofit Roof System – affordable ways to replace a leaky roof with a long-term weathertight solution (available in a wide variety of colours including energy efficient cool colours).
Contact us to learn more about the innovative roof systems we can offer you as a Butler Builder®.
What are the Benefits of a Butler® Metal Roof System?  
Versatile options designed for commercial, industrial and institutional facilities
Can save you money on roof maintenance and installation costs
Compatible with rooftop solar panels
Proven in-place weathertight performance and accommodates thermal expansion and contraction
Proven durability and longevity
An extensive line of add-on roof accessories to meet your needs