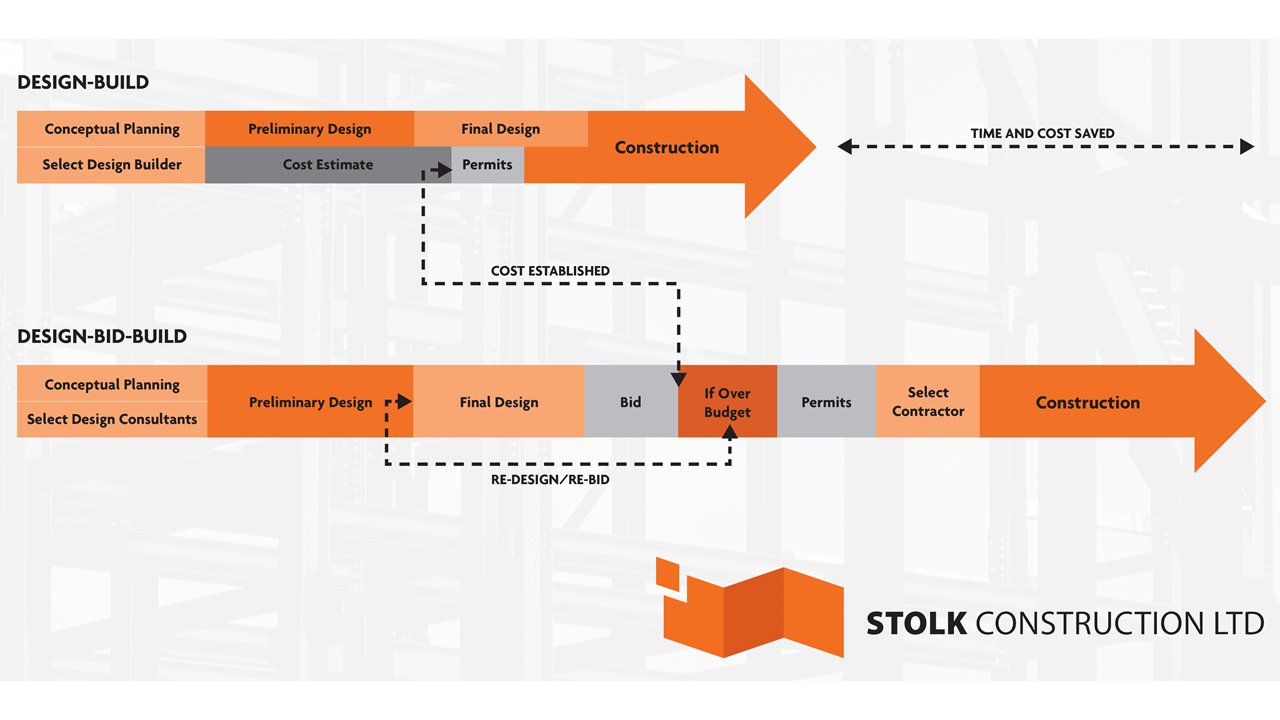 What is Design-Build?
Unlike the general contracting (Design-Bid-Build) method, design-build (D-B) construction relies on one contractor to design and build a project from start to finish. When an owner chooses to work with a design-builder, the design and construction of a project is included under one contract.
Design-build construction is an increasingly popular choice of project delivery because it can save the owner time, money and stress when embarking on a construction project.
At Stolk, our design-build projects are led by experienced Project Management teams who coordinate and oversee the design, planning, permits and construction of the project. 
What Are the Benefits of Design-Build Construction?
When you choose Stolk to be your design-builder (or design-build contractor) you can have peace of mind that every detail of your project is being handled by experts who are committed to your long-term success. Choosing the design-build method can have a variety of advantages to the owner of the project:
More collaboration between designer, builder and specific trades resulting in a more successful project
One unified team from project start through completion
Can save the owner money not having to hire separate designers, builders and subcontractors
Can save an immense amount of time and stress by having one entity leading the design-build process instead of various contractors
Results in a smoother workflow and more cohesive project timeline since one entity is overseeing pre-construction and construction phases
Allows the design-build contractor opportunity to assess potential risks during the design phase, and therefore they are able to address potential problems proactively, saving you time and money
Stolk's Responsibilities as a Design Build Contractor:
At Stolk Construction, we value our partnership relationships and the trust you put in us as your design-builder. When you choose Stolk as your design-builder, you can expect:
A Pre-Construction Manager to meet with you to discuss your needs and requirements
Pre-Construction meetings to review preliminary design, discuss revisions, and ensure that the drawings submitted for permit are as close to the final building design as possible; a little time spent prior to construction on accurate design can save lots of time during construction
Budgetary pricing during the design phase so you can see how changes affect the cost and allow you to prioritize what matters to you, the end user
A design-build team that will aid in the permit application and approval process
The smooth transition from the pre-construction phase to the project management phase because of the design team consulting with the build team throughout
The opportunity to select and consult with trades during the design phase, which may reduce the number of changes during construction and minimize cost overruns
A Project Management team that will provide timelines and schedules based upon experience and coordinate trades and material supply to maintain progress on the project
Management of trades for the completion of the project, from excavation through finishing touches, communicating timelines and requirements throughout to maintain schedule and budget
Assurance that site safety is a priority throughout construction